People, young and old, need a way to grieve and honor the memory of loved ones who've passed away. The best part of my first semester is a memorial installation my ELD students create called "Speak Memory."
My current class consists of 31 kids from 12 different countries who speak eight different languages* (40 separate languages are spoken on campus!) Each person brings a unique perspective to the process and for several beautiful months they transform the library into an interactive space filled with art, poetry, sayings from their languages, and tributes they've written.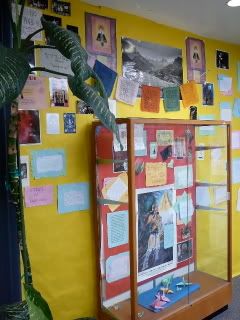 The beauty of project-based instruction is that authenticity brings out the greatest work from kids, regardless of language ability or educational background. Everyone one can be an expert and nothing motivates like success.
(*Spanish, Chinese, Farsi, Arabic, Tagalog, Vietnamese, Bulgarian, Tongan)