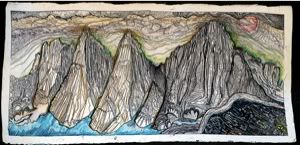 ('Whitney Cirque'--Renan Ozturk)
When I was finishing high school the three things that really held my little world together were climbing, hardcore, and graphic design. If I'd had the self-confidence and gotten over my anxieties about being color-blind, I'd have gone to art school and a whole lot of thins would probably have turned out differently.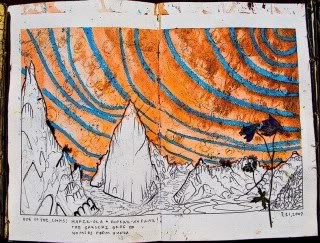 ('Ode to Cooks'--Renan Ozturk)
Anyhow, I've recently gotten re-excited about print-making and textile design and 2010 may finally yield some interesting new projects--some with my students, some on my own.

(Shipton Spire and Valley--Renan Ozturk)

I really love how these paintings capture both the intensity and subtlety of alpine landscapes. They also give me a chance to live vicariously in places that are familiar (Yosemite, Zion, Joshua Tree) and foreign (Pakistan). For more about Renan's artwork and adventures, visit his site, Rock Monkey Art.