CAMPAIgN, on the floor at Scripps College


Burt Hashiguchi, YWCA Berkeley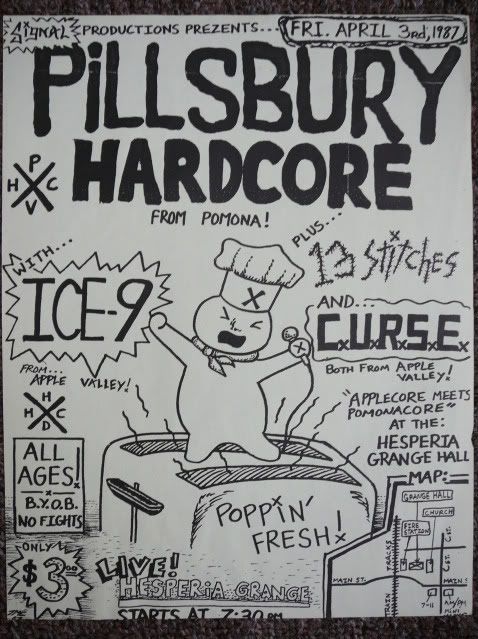 Poppin' Fresh in '87, suckas


Juggler/Fire-eater/Trial member at Inside Out reunion, summer 1993


Mountain Monthly (sticky dessert recipe and 'Victory for hate' commentary)


Honeywell at Scripps. Yes, that's Justin from Struggle looking at the camera.


Zack de la Rocha at Inside Out reunion, 1993


CAMPAIgN


Aaron Kenyon, MITB, at The Jabberjaw


Butch at Submission Hold House, Vancouver


Jake Hockel preparing for tour


Carrie Crawford, Former Members of Alfonsin


Henry Barnes, MITB


AFC studio


Zach Hydar (?) photo
Jos, Seein Red in Portland


Snapcase at the Glass House


Chris Smith and Dave Thurston, Brookhurst


Alex Frixione (former Members of Alfonsin) and Chuck Shakleford (Bread and Circuits) in Portland
The show that changed the complexion of punk in Santa Cruz


Elliot Smith played on an amp on this tour


A great show that never happened. Note the original name of Yaphet Kotto


Jen Thorpe, Submission Hold


You could date this photo to the minute...


Fugazi in Hamburg, Germany, summer 92


Gentry, Iceburn


Straight No Chaser
Issue #1
Artwork I did for the AFC "Phoenix" 7" that was never properly released but incorporated into the "Thorny Path" LP on Vermiform


El futuro no esta escrito