The first time I heard De la Soul...
...I was spending my time hiding from the unholy heat of August in the Inland Empire, learning to airbrush. KROQ was in a transitional state, moving from the warbly anthems of pale anglophiles and wannabe goths toward the flash-in-the-pan sounds that would respectively become acid house and grunge. The summer's heavy rotation included Prince's "Bat Dance", The Pixies' "Monkey gone to Heaven", P.E.'s "Don't Believe the Hype", and De La's "
Me, myself, and I
." Three out of four classics isn't half bad! From the opening riff of the Funkadelic sample, I was hooked on the Strong Island poets' contribution to the Native Tongues sound.
Arsenio
dissed them but the crowd kept clapping.
Incredible as it may seem, it has been 20 years since the mighty
Three Feet High and Rising
was released, and few records can match the humor and sonic complexity packed between the grooves of this Tommy Boy classic.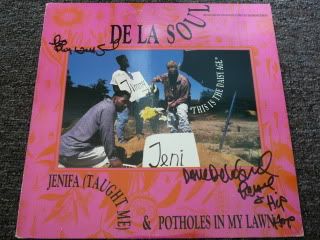 Tonight, De la will perform the entire album with a
live band
. While I'm usually let down by live hip-hop, let alone reunions and retrospectives, Pos, Mase, and Trugoy are sure to put the
fun
back in the funk.